I had posted on the forum to sell this fine example of a vintage
handmade Klipschorn a year ago when my father passed away and left it
to me:
http://community.klipsch.com/forums/t/143023.aspx
I've
since brought the Klipschorn home that my father meticulously built
with plans he got from Mr Klipsch, with hand-written side-notes from
his several conversations with Mr Klipsch about the construction in
1949, a treasure in-itself.
Well now that I've got it home, no
small task along with the hand-made 20 watt stereo tube amp my father
also built in 1950, and ~7000 78 rpm records, I decided to hold on to it
and put it to good use. Being an audiofile enthusiast and musican, I
hooked the K-Horn up to my Fender 15W Champ tube amp and single 12AX7
tube microphone pre-amp and started to play my Blues Harp through it.
The sound experience was nothing short of incredible!
The
use of a mere 5 watts filled my home with raw gutteral vibe's that can
only come from a tube amp, the Klipschorn, and a B-Flat harp playing
Sonny Boy Williamson!.
I was amazed how wide a dispersion the
frequency range of the K-Horn has without anything else to assist in
midrange and high frequency notes, the raw harmonica notes filled my
house from one end to the other.
The smile on my face was ear-to-ear, and a song in my heart!
Originally
the Klipscheorn my Dad built had three horn tweeters underneath the top
panel of solid cherry in a cabinet which had been discarded in the
family cleanout of my Dad's house and unfortunately the upper cabinet
was lost. I recall that my Dad removed it to the basement sometime in
the early '60's and set it aside for a single AR 3a 8" speaker cabinet
to bring clean mid-high frequencies to the stack, which were far better
than the horn tweeters.
It's amazing how clean and rich sounding
the K-Horn with 15" Electro-Voice woofer is after 60 years, and not
being used since around 1975. There was a lack of hi frequency which I
really wanted out of my harmonica notes while playing with other members
of the band that have more powerful guitar amps when we practice
together in my home. It would be great to have the K-Horn on a stage
though, but it's just too big to lug around.
So next was to re-establish some form of mid-high frequency range to the K-Horn.
Answer: one '80's-vintage Klipsch KG-1 and a Phoenix Gold impedance matching network.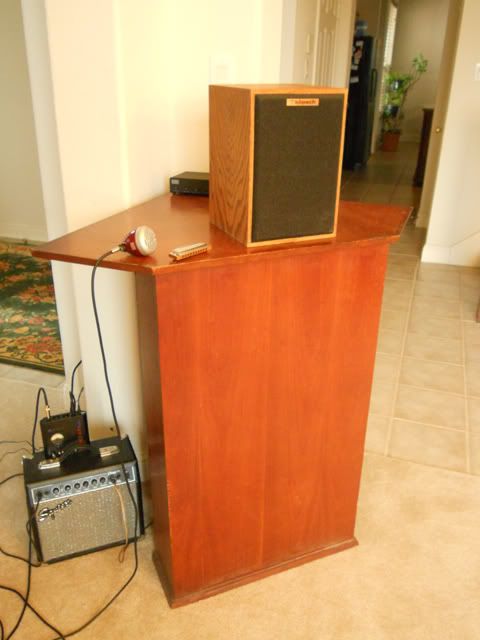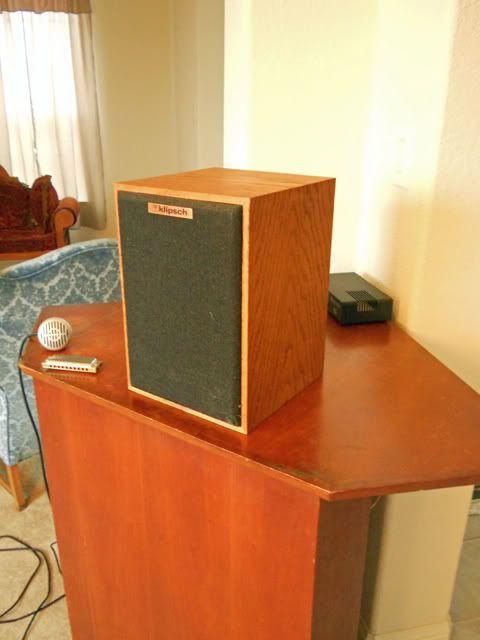 I'm
working to get my Dad's tube amp going, and also to hook the K-Horn up
as a sub-woofer to my not-so-Vintage soild state analog 1990 Marantz
amp, 1977 pair of Ohm B+ speakers with the pair of KG-1's as surround
rear channel, which has been a great stereo for 20 years. I have already
tried the harmonica Red Howler mic and pre-amp hooked up to the Marantz and Ohm's
, but it doesn't sound nearly as good as the Klipschhorn and KG-1
powered by the Fender.
I'm not going to let this nice example of
original Klipsch technology go until I'm six-feet under. I'll pass it on
to my son when I move on. For now, I'm enjoying every note out of it!
Maybe I'll drag it to the next jam.